Congratulations! You've been roped into riding The Twilight Zone Tower of Terror at Disney's Hollywood Studios! Apparently, paying mucho buckso for this amazing top-of-the-line family vacation is not enough for those little rascals you call children – they also want you to actually RIDE RIDES with them. I think I speak from experience when I say spending time with Mom or Dad is extra fun if you can see them legit scared. So really, can you blame them? They just want to make magical memories with you….and they are hoping those memories include you crying in fear.
Don't worry, I'm here to hold your hand. Probably not literally, I mean metaphorically. Unless you are my husband or son. But one of those can't this read yet. I'll let you guess which.
SEE? We're already having fun!
I KNOW your heart started pounding from the corner of Hollywood Blvd and Sunset Blvd, when your eyes met that imposing edifice at the end of Sunset. You could hear the screams all the way down there. Perhaps you have stalled as much as you can: "Hey, who wants a Frappuchino?! " "Oh, hey, who wants an Olaf towel?" "HAVE YOU SEEN THIS POWER RANGERS COSTUME IS WAS REALLY IN THE MOVIE YOU GUYS."
(The answers were: "YES!" "Sure?" and "What's a Power Ranger? Dad, you're old.")
Your time has come. Your FastPass+ window is quickly closing. Let's make some memories. Here's how you do this!
STEP 1: Realize This: Those Screams You Hear are (mostly) Fake!
Don't get me wrong – of course people scream on rides that drop you a long way down (I'm not telling you exactly how far down because that's not what you need right now). But I have been informed by Those In The Know that they also pipe the sounds of screams out into the park. Listen closely and you'll notice that they all sound REALLY similar, and that the screams are much louder than they probably would be from that distance.
STEP 2: Think About The Hardest Thing You Have Ever Done 
Chances are good that you have already done something way, WAY harder than this. Maybe it was giving birth. Maybe it was running a marathon. Maybe it was continuing to watch Downton Abbey with your spouse after it jumped the shark, just because you love them and want them to be happy. Whatever it is, you got through it, and you will get through this, too. Who knows, you may even enjoy it, unlike the last six miles of that marathon…..or the last three seasons of Downton Abbey.
STEP 2 ALTERNATE: Take a Shot 
There's nothing wrong with a little Liquid Courage if that's your thing. If you want to ACTUALLY take a shot, your best bets (as far as I am currently aware) would be the Tune-In Lounge (inside 50s Prime Time Cafe) or potentially the Brown Derby Lounge (maybe?). High Octane Refreshments (if it is still open by the time you read this) by Studio Catering Co is the only other full-service bar I know of currently at DHS, but that's just about as far away as you can get from Tower of Terror…and I would just SHOCKED if it is there much longer. So maybe your better bet would just be a nice adult beverage. Within spitting distance of the ToT you'll find margaritas at Anaheim Produce, Bud and Bud Light at Catalina Eddies, (and nearby Fairfax Faire, and Rosie's All American Cafe, and a small wine selection at Starring Rolls Bakery (which closes in the afternoon). If you are a craft beer kind of human, I recommend heading towards Gertie the Dino in the Echo Lake area, and checking out Min and Bills Dockside Diner. They have a good list of local Florida beers. Anyway, enough talk – get your drink and get in line!
STEP 3: Watch People Come Off The Ride 
This one seems obvious, but I've included it just in case. Walk in the back way through the gift shop and you can see folks who have just gotten off the ride. Listen to their laughter! Hear them talk about getting in line immediately and doing it again! Ignore all the wet pants!
STEP 4: Just Look How Much The Lost Cast Enjoyed It! 
Seriously though, if you need to, just screencap this photo of pure joy, make it your phone screensaver and remember a simpler time, back before all of their characters were dead and JJ Abrams fooled us all. Keep it handy for when you need it again later in the ride. Put it away before the drop.
STEP 5: Grin and Bear It (and Enjoy The Details!) 
Chances are good that you aren't alone, so think about the kids or spouse or friend or partner or weird neighbor you are with and hop in line. You are there for them!  And there's so much to love about this ride that isn't just THE DROP. My husband told me (after the fact!) that he was NOT looking forward to riding this the first time, because he assumed that like a lot of amusement park "drop" rides that it was just that with a little spit and polish added for Disney effect. But it is sincerely more than that. The details of this ride are truly extraordinary. Pay attention! The lobby of the Hollywood Tower Hotel is one of my favorite ride loading areas in all the parks. I can never get enough of it!
I really, really think you'll like it when you are done!
POSTSCRIPT PRIZE!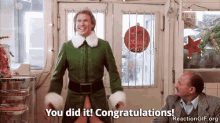 After you really and truly ride it (YOU HAVE TO PROMISE YOU RODE IT!) then you get to watch "Disney's Tower of Terror", a 1997 TV movie starring Steve Guttenberg and Kirsten Dunst. It's a gem, I tell you!
But you can't watch it if you didn't ride it. It's a rule.
---
How did it go? Let us know at info@fastcastplus.com !